McCarthy's big test
Kevin McCarthy faces his most important vote since being elected speaker.
Good morning! It's Wednesday, April 26, 2023. The 2024 elections are 559 days away. Read this newsletter in your browser.
A friend of mine recently told me that the debt ceiling had come up in conversation with a group of his friends. He was the only one who was able to explain to the others what was going on, he proudly reported to me, because of the coverage of it he's read in this newsletter. That made me happy.
But then I saw another friend the next day and he told me, "Gabe, I'm sorry, but I can't read another newsletter about the debt ceiling. No matter how many times you include it, I'm just not going to be able to bring myself to care."
So, based on that focus group of exactly two Georgetown students (thanks for reading, Zach and Dan!), how about this: I am going to keep writing about the debt ceiling, because I would like to convince you that it matters and for you to be the type of friend who can explain it to your other friends. But I'll only write about it when there's something you really need to know. Sound good?
With that said, buckle up: today's a debt ceiling day. (Also: if you ever want to join the rolling focus group in my inbox, you can always click "reply" to reach me and weigh in.)
If this newsletter was forwarded to you, subscribe here. If you want to contribute to support my work, donate here.
---
Can McCarthy push his debt ceiling bill across the finish line?
The House is poised to vote as soon as today on the Limit, Save, Grow Act, the Republican plan to both raise the debt ceiling and slash government spending.
In case you need a refresher on what the bill does, here's a quick summary. The measure would:
Raise the debt ceiling, the limit on how much the U.S. government can borrow, by $1.5 trillion or until March 31, 2024, whichever comes first.
Cut federal spending back down to 2022 levels, which would create $3.2 trillion in savings over the next decade, while also capping the federal budget from growing more than 1% each year for the next 10 years.
Impose work requirements for social safety net programs. For the food stamps program, adults without children would have to work until age 56 to qualify for the aid (instead of age 49 as currently required). For Medicaid, most childless beneficiaries ages 19 to 56 would be required to work 80 hours per moth.
Claw back unspent Covid relief funds from state and local governments that never used them.
Stop Biden's student loan debt cancellation plan, which is currently lingering in the courts.
Repeal clean energy tax credits and IRS funding included in the Democrats' Inflation Reduction Act.
Enact other GOP priorities, such as legislation to increase oil and gas drilling and give Congress new oversight over federal regulations.
It's a sweeping plan, and almost all of it is unlikely to become law, at least with Democrats in control of the Senate and the White House. But it represents House Speaker Kevin McCarthy's opening offer in the debt ceiling negotiations, which President Biden has so far refused to participate in.
That sets up today's vote as a key test of McCarthy's sway over his conference, even if this exact measure might be "dead on arrival" across the Capitol.
Part of the rationale behind Biden's stance has been the belief that McCarthy is a fundamentally weak negotiating partner. The White House is essentially betting that McCarthy won't be able to pass any of his fiscal plans through the House, leaving a clean debt ceiling bill as the GOP's only option to avoid default.
If McCarthy is able to muscle this package through, that argument would fall apart and pressure would likely grow from Democrats for Biden to sit down with the speaker and begin negotiations.
But as always in the fractious House GOP, that's a big "if." As of last night, there were several groups of Republicans who were telling reporters they had issues with the package:
Midwesterners who opposed the bill's repeal of several ethanol-related tax credits and subsidies included in the Inflation Reduction Act. (The Iowa delegation, Derrick Van Orden of Wisconsin, Mariannette Miller-Meeks of Illinois)
Moderates who opposed the bill's repeal of other clean energy tax credits from the IRA. (Nancy Mace of South Carolina, Jen Kiggans of Virginia)
Conservatives who wanted even more of the IRA repealed, and for the work requirements to be toughened and accelerated so they go into effect in 2023 instead of 2024. (Freedom Caucus leadership, Tim Burchett of Tennessee, Matt Gaetz of Florida)
And then, naturally, George Santos, who somehow wedged himself into two of these categories by both opposing the clean energy rollbacks and supporting tougher work requirements.
McCarthy spent most of Tuesday refusing to make any changes. Then, in the dead of night, he reversed himself. An amendment was tacked on in the Rules Committee to mollify the Midwesterners by leaving the ethanol tax credits in place and the conservatives by repealing other IRA provisions and speeding up the work requirements. (The moderates didn't get anything, as tends to be the case in the House GOP.)
Now we wait and see whether those changes were enough for his conference to fall back in line. If all Democrats are present and voting in opposition, McCarthy can only afford to lose four Republican "yea" votes.
If he muscles the bill through, it will be a victory for McCarthy — but another costly one. In many ways, this is the most consequential vote the House has held since the days-long balloting that elected him speaker in the first place.
Today, we see the concessions he made during that initial voting coming home to roost. After McCarthy weakened himself during the speaker election, he was left with little choice but to bend to the demands of his rank-and-file again during this process, ultimately amending a bill he didn't want to change.
It is a second, public reminder of McCarthy's fragile hold on his conference, and of just how much Republicans are able to extract from him if they put up enough of a stink. The freewheeling, give-anything-away-to-win style that was on display during the speaker vote can be detected again in his late-night concessions on the debt ceiling.
We'll see if what he gave away was good enough for his rank-and-file this time. There is always a risk in amending a bill even once, since it sends a signal to other possible defectors that the package is up for negotiation and could be changed again.
But, if he gets the bill through, a win is a win. It will be proof that McCarthy can pass something after all, transporting the ball to the Democrats' court and putting the onus on them to pass something too.
It will be the most significant development in the debt ceiling process we've seen yet, as time ticks down and Wall Street grows nervous. According to estimates, the U.S. is set to run out of money to pay its obligations sometime this summer, possibly as early as June.
Two more dynamics you should keep in mind:
1) Attendance. As you may recall, House Republicans did away with proxy voting when they assumed the majority. They might regret that move today if there are any Republicans out of town: every absence tightens McCarthy's margin even more and increases the need for all present Republicans to vote "yea." (Conversely, each absent Democrat lowers pressure on McCarthy and helps him get over the finish lines.)
2) Process. When Republicans took over the House, they also promised a more open legislative process. Bills would have to go through committee, McCarthy said, and any member would be able to offer an amendment. Think the "I'm Just A Bill" route," as opposed to the shambolic, leadership-driven process that most bills have gone through in recent years.
Well, that's gone out the window, as the Washington Post's Paul Kane recently noted. This bill was written by McCarthy's office, did not go through committee, and members were not given the opportunity to freely offer amendments. The one amendment that was added was tacked on in the Rules Committee at 2 a.m. this morning at the behest of leadership.
---
White House: President Biden will spend the day with South Korean president Yoon Suk Yeol. The two leaders will hold a bilateral meeting to discuss North Korea, China, and other issues, followed by a joint press conference and then a state dinner later tonight.
Senate: The chamber is scheduled to hold three votes:
On advancing a bill allowing the VA to conduct clinical trials to study whether cannabis could help veterans struggling with PTSD. (Needs 60 votes)
On advancing a resolution overturning an EPA regulation imposing strict clean air standards on heavy-duty trucks. (Needs 51 votes)
On confirming an Undersecretary of Veterans Affairs nominee. (Needs 51 votes)
House: You know the drill from above. The chamber is preparing for a possible vote on the Republican debt ceiling plan, but the scheduling is not definite.
Supreme Court: Geraldine Tyler is a 94-year-old grandmother from Minnesota who owed her county $15,000 in unpaid property taxes and fees. The county, as the law allows, responded by confiscating the title to her condo and selling it at auction for $40,000. Here's the issue, though: the county the entire proceeds from the sale, pocketing the $25,000 difference. In a case before the justices today, Tyler is suing for the $25,000, arguing that the government took more of her home equity than it was owed.
A few more Washington items for your radar:
#1: Chief Justice John Roberts declined an invitation to testify before the Senate Judiciary Committee on Supreme Court ethics. In a letter to Sen. Dick Durbin (D-IL), Roberts noted that it is extremely rare for chief justices to testify before the Senate on issues unrelated to budgets or nominations: none have done so since 1935.
Monday also brought yet another revelation about a Supreme Court justice's real estate ties to someone with business before the court: per Politico, Justice Neil Gorsuch sold a 40-acre property he c0-owned to a prominent attorney just nine days after his 2017 confirmation.
#2: I always like to keep you updated on bipartisan bills making their way through Congress, of which there are more than you think. Two notable developments:
---
The latest 2024 news: Former Gov. Asa Hutchinson (R-AR), a Trump critic, will launch his Republican presidential campaign in Bentonville, Arkansas today.
In the states: "Washington Gov. Jay Inslee signed a trio of bills meant to address gun violence Tuesday, one banning the sale of certain semi-automatic rifles, one imposing a 10-day waiting period on firearms purchases and one clearing the way for lawsuits against gun makers or sellers in certain cases." AP
Around the world: "Ukrainian President Volodymyr Zelensky spoke Wednesday with Chinese President Xi Jinping, Moscow's most important diplomatic partner, in the first phone call between the two leaders since the start of Russia's invasion." CNN
---
Here's something interesting: Do parrots, like humans, get lonely if they don't have anyone to talk to?
It turns out they do. Parrots tend to live in large flocks in the wild, and researchers have found they can feel isolated when living alone as pets in people's homes — even resorting to "self-harming tendencies like plucking out their feathers," per Smithsonian Magazine.
A group of scientists from Northeastern University, the University of Glasgow, and MIT teamed up to find a fix: they taught pet parrots to initiate video calls with other parrots. The birds loved it. "Some would sing, some would play around and go upside down, others would want to show another bird their toys," one researcher said.
Soon, the parrots were making the calls themselves, and even choosing which bird to dial up: "Over the next two months, [15] pet parrots made 147 deliberate video calls to other birds." Read more about these parrot friendships: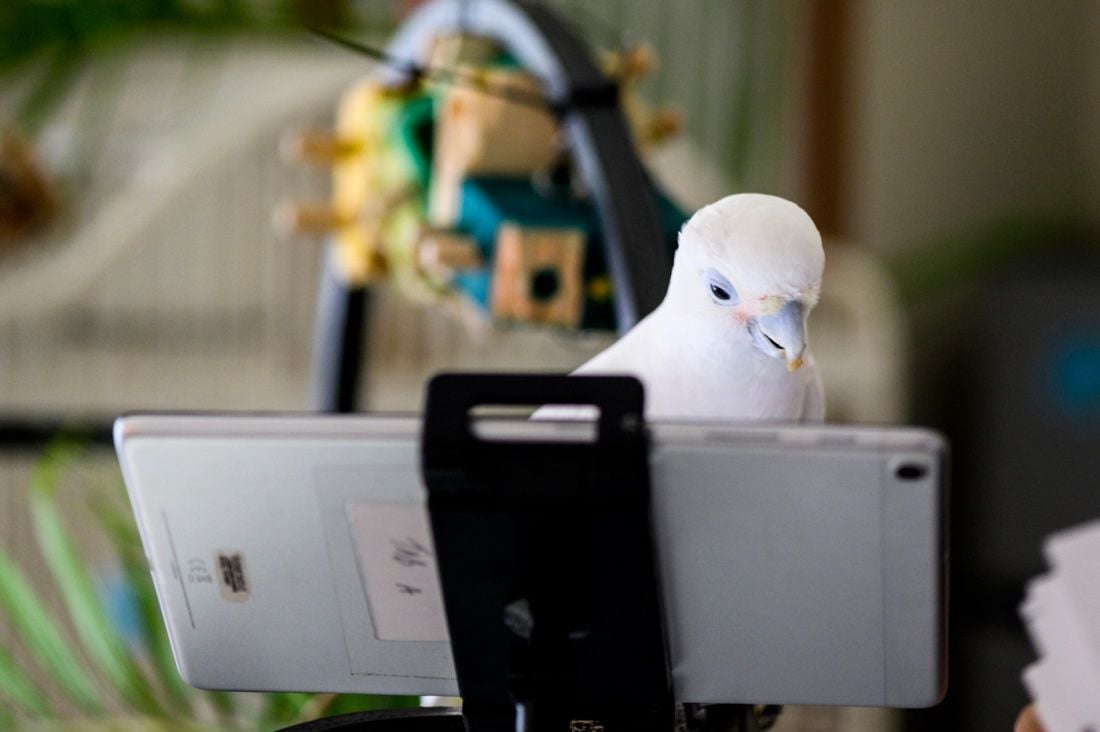 ---
Thanks for reading.
I get up each morning to write Wake Up To Politics because I'm committed to offering an independent and reliable news source that helps you navigate our political system and understand what's going on in government.
The newsletter is completely free and ad-free — but if you appreciate the work that goes into it, here's how you can help:
If you have any questions or feedback, feel free to email me: my inbox is always open.‌‌‌‌
Thanks so much for waking up to politics! Have a great day.‌‌‌‌— Gabe