Yes, negotiating over the debt ceiling is normal
Democrats can refuse to negotiate on the debt ceiling if they want. But "clean" debt ceiling increases haven't been the norm.
Good morning! It's Wednesday, April 19, 2023. The 2024 elections are 566 days away. Read this newsletter in your browser.
This morning, I'm leading off with the debt ceiling again — but not with an update on the current situation. Instead, I want to reach back into history to answer a question that has been posed to me by several readers: is it normal for raising the debt ceiling to require negotiation?
If this newsletter was forwarded to you, subscribe here. If you want to contribute to support my work, donate here.
Chuck P. from Bloomington, IN writes:
"Regarding the ongoing story about the debt ceiling: I would like to point out that it is a regular and expected thing for Congress to negotiate the details of the *budget* but the debt ceiling is raised to cover debts already incurred. For that reason, negotiating would be improper and I believe it is incorrect for US media to take the perspective that both Democrats and Republicans will have to compromise. The Democratic Party is absolutely correct not to negotiate in the case of the debt ceiling. Whatever damage Republicans manage to do to the US economy will be entirely on them."
This is a case Democrats have been making a lot lately, and one many of you have made in emails to me whenever I've written about the debt ceiling in the newsletter.  
After all, it is true, as Chuck writes and as I have pointed out before, that raising the debt ceiling does not greenlight any more federal spending than has already been authorized. It merely allows the U.S. to pay for expenses it has previously committed itself too.
It is also true that there is a very clear process set out for raising and lowering government spending; separately from whenever the debt ceiling might be hit, Congress is required to approve a new budget annually by the time the federal fiscal year comes to a close on September 30.  
The Biden White House has repeatedly insisted that these two processes — the debt ceiling and the budget — must therefore be wholly disconnected. "The president would love to sit down and negotiate and talk through" the budget, White House press secretary Karine Jean-Pierre said this month, but the debt ceiling "should be done without negotiation. It should be done without conditions."
And that's fine if they want to take that position! Their calculation — and it could very well be a correct one — is that it's good politics to refuse to negotiate on the debt ceiling, blame the whole mess on Republicans, and punt any conversations about spending or the national debt until it's time to negotiate the budget. But just because something might be good politics does not mean that it's consistent with the history.
In fact, it is very normal historically for there to be negotiations between the two parties over raising the debt ceiling, and for policy concessions to be given up as part of those negotiations, and for those concessions to be about federal spending. The debt ceiling and budget conversations — which Democrats are now insisting have always been de-linked — have frequently been melded together in the past, and that has often been the expected price of admission for the debt ceiling to be raised.
For example:
In 1985, 1987, and 2011, the debt ceiling was raised as part of packages that also imposed automatic budget cuts (known as "sequestration") if certain spending limits were exceeded. In the 1985 and 1987 versions, the exact cuts were not laid out immediately; the 2011 bill included $917 billion worth of cuts, as well as a process for more that would be laid out later.
In 2015, 2018, and 2019, the debt ceiling was raised as part of packages that increased the 2011 spending limits.
In 1990, 1993, 1997, and 2010, the debt ceiling was raised as part of packages that also implemented "PAYGO" procedures, which required that all spending legislation be offset by commensurate spending decreases or tax increases.
In 1996, the debt ceiling was raised as part of a deal that also advanced several Republican priorities, including measures creating a line-item veto, increasing the amount retirees could earn before losing Social Security benefits, and allowing small businesses to challenge federal regulations in court. The package was known as the "Contract with America Advancement Act," an example of a Democratic president signing a bill into law that explicitly embraced parts (and the name) of the House GOP agenda in order to raise the debt limit.
Some of you have written in criticizing me for covering the debt ceiling process as a normal political negotiation, rather than something Republican should be expected to agree to as part of a "clean" package with nothing else attached. You can want Republicans to do that, maybe even believe it is irresponsible for them not to, but that has not been the norm in modern history, which is why I haven't covered it that way.
In fact, according to the Congressional Research Service, "most major statutory budget process reforms in the past 40 years have been made as part of legislation addressing the debt limit." (To be clear, this has sometimes been because the debt ceiling was raised as part of the annual spending package, but there are many examples when such reforms have been imposed in debt ceiling bills that were passed outside of the annual appropriations process.)
If you look at the past debt ceiling deals I've outlined, you may notice that the Republican proposal released yesterday is far more sweeping than the agreements that have been struck in the past. But that's how negotiations work! Each party submits their opening offer, and then the two sides meet to whittle them down until they have a compromise. Right now, Biden is blocking that negotiating process from taking place. Again, that might end up working politically, but we should be clear about whether it aligns with recent history.
This is not me giving an opinion on whether a "clean" debt ceiling bill should or should not pass. I merely want to show, contrary to what many have suggested, that it would not be out of the ordinary for a "non-clean" debt ceiling bill to pass. According to the CRS, about 40% of the debt ceiling bills in the last 40 years have been "clean"; the other 60% have not.
Biden himself has played a key role in several of these deals, including the 2011 process that has led Democrats to swear off future debt ceiling talks because they were unhappy with that year's result. Perhaps this new refusal to negotiate will succeed in creating a new "clean" debt ceiling norm; more likely, there will eventually have to be some give-and-take, as has been the actual norm in the past few decades.
White House: President Biden will deliver remarks at a Maryland union hall "contrasting his vision for the economy with MAGA House Republicans' vision." Vice President Harris has nothing on her schedule.
Senate: The Senate will hold amendment votes on the Fire Grants and Safety Act and a procedural vote on a resolution that would block a rule providing abortion services to veterans. The resolution is Republican-sponsored, but has at least one Democrat — Sen. Joe Manchin (D-WV) — as a co-sponsor.
Nominations: Senate Republicans blocked Democrats on Tuesday from replacing Sen. Dianne Feinstein (D-CA) on the Judiciary Committee. Feinstein, 89, had requested to be replaced as she recovers from shingles; without a substitute, it could be difficult for Democrats to approve certain judicial nominees. Feinstein has refused to resign, despite calls for her to do so from House Democrats.
House: The House will vote on a resolution that would block a D.C. police reform bill, the third local D.C. law the chamber has attempted to reverse this year. According to the Washington Post, the measure in question would prohibit D.C. police from using neck restraints, expands access to police body-camera footage, and make it easier to fire officers who commit misconduct by excluding the police union from the disciplinary process.
Debt ceiling: Meanwhile, relevant to the above discussion, House Speaker Kevin McCarthy is having difficulty generating Republican support for his debt ceiling proposal, with some conservatives hoping to make it even broader. Even though no exact legislative text has been released yet, McCarthy is aiming for a vote on the bill next week; he would only be able to lose four GOP votes on the measure.
Supreme Court: The justices will hear oral arguments in Counterman v. Colorado, which considers when a statement should be considered a "true threat," which is when it loses its status as protected speech under the First Amendment. The case stems from Billy Raymond Counterman's conviction in Colorado for sending hundreds of harassing online messages to singer-songwriter Coles Whalen, including "Die" and "Fuck off permanently."
The question: When deciding what is a "true threat," should courts use an "objective test" (which would merely require showing that a "reasonable person" would feel threatened by the statement) or, as Counterman argues, a "subjective test" (which would require showing that the speaker intended the statement to be threatening, which Counterman says he did not).

Media: Fox News and Dominion Voting Systems agreed to a $787.5 million settlement on Tuesday, avoiding a defamation trial in Dominion's lawsuit against Fox for airing false claims about its voting machines after the 2020 election. The settlement came after the jury in the trial had already been selected and just before lawyers were expected to start their opening statements.
Context: The amount of the payment, one of the largest defamation settlements in U.S. history, "represents about one-quarter of the $2.96 billion the company reported earning last year before interest, taxes, depreciation and amortization," the Associated Press notes. The settlement did not require an on-air apology or retraction, although Fox did acknowledge in a statement that the court found "certain claims about Dominion to be false."
Campaign 2024: It was another rough news cycle for Ron DeSantis, as three more House Republicans from Florida endorsed Donald Trump's presidential campaign, making seven lawmakers from DeSantis' home state who have backed the former president. DeSantis, who hasn't officially announced yet, has received one Florida House GOP endorsement.
As if that wasn't enough: Another House Republican, Rep. Lance Gooden of Texas, also endorsed Trump on Tuesday... right after leaving a meeting with DeSantis.
On the Democratic side: Anti-vaccine activist and political scion Robert F. Kennedy Jr. is poised to launch a primary challenge against President Biden at a rally in Boston today. Few — if any — members of his famous family are expected to line up behind him.

Here's something fun: There was an intruder at the White House on Tuesday... a toddler who was able to squeeze through the building's metal fencing.
A Secret Service spokesman told the AP that officers "encountered a curious young visitor along the White House north fence line who briefly entered White House grounds." The security systems were "instantly triggered," briefly restricting access to the complex, before "the toddler and parents were quickly reunited."
It was the first successful White House intrusion in several years.
The agents still did their due diligence, though: "Officers briefly questioned the parents before allowing them to continue on their way," the AP reports.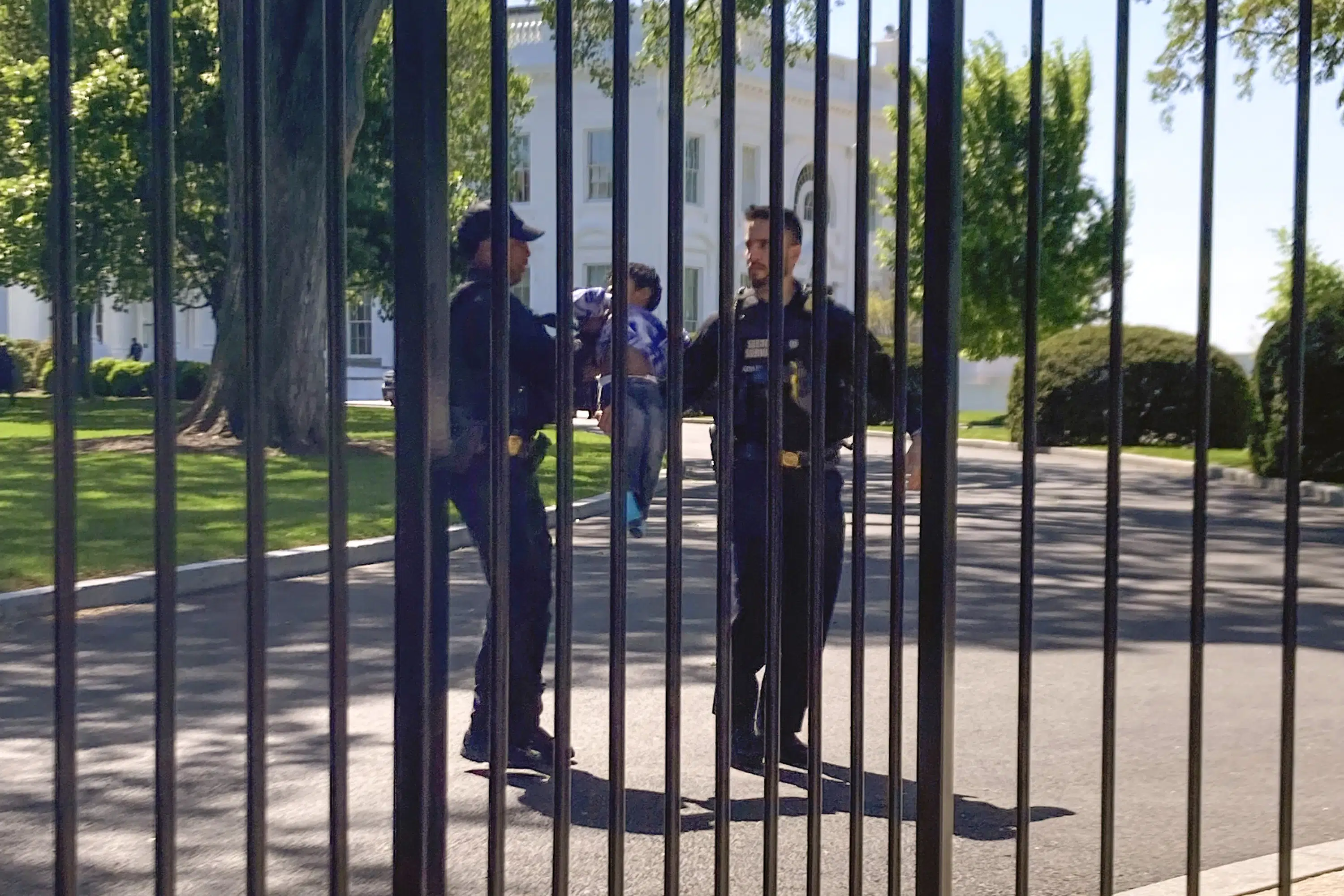 I get up each morning to write Wake Up To Politics because I'm committed to offering an independent and reliable news source that helps you navigate our political system and understand what's going on in government.
The newsletter is completely free and ad-free — but if you appreciate the work that goes into it, here's how you can help:
If you have any questions or feedback, feel free to email me: my inbox is always open.

Thanks so much for waking up to politics! Have a great day.

— Gabe