Biden, break out that veto pen
The decades-old measure that has led to Biden's first vetoes as president — with more to come.
Good morning! It's Friday, May 5, 2023. The 2024 elections are 550 days away. Read this newsletter in your browser.
Happy Cinco de Mayo and congrats on making it to the end of the week. I had my last classes of the year this week — now it's time for final exams. Wish me luck.
This morning, like every Friday, I'll be rounding up what happened in Washington this week — although I'd like to start by spotlighting the recent trend of congressional votes on Biden regulations. (Think of this as Part Two in a series on the regulatory state. Click here for my piece from earlier this week on what explains the steady increase in federal regulations.)
If this newsletter was forwarded to you, subscribe here. If you want to contribute to support my work, donate here.
---
Biden, break out that veto pen
The United States is possibly less than one month away from defaulting on its debt, an unprecedented event that could spiral into a global financial recession.
But this week, the upper chamber of our legislature held zero votes on the debt ceiling. The U.S. Senate did, however, hold a vote on lesser prairie chickens.
More specifically, the Senate voted to overturn a Biden administration regulation that added the lesser prairie chicken to the U.S. list of endangered species.
While it may not have quite as large implications as the debt ceiling, the fight over lesser prairie chickens is actually a long-running political dispute as well, dating back to when the bird was first proposed as an endangered species in the 1990s.
Advocates of adding the lesser prairie chicken to the endangered species list — which makes it illegal to kill or harm them, and orders conservation of the areas in which they reside — note that the colorful chicken's population has declined by about 97% since the 1960s.
But opponents argue that the listing will hurt the economies of the covered areas, as farmers, ranchers, and oil producers would be limited in what they can do on the land they own if the lesser prairie chicken resides there. Kansas Attorney General Kris Kobach went so far as to call the prairie chicken listing Biden's "latest weapon in his war on fossil fuels," suggesting that the listing was only made to prevent new oil drilling in the Great Plains.
The resolution overturning the listing ended up passing 50-48 on Wednesday, with Sen. Joe Manchin (D-WV) joining Republicans in support. If two absent Democrats — Sens. Dianne Feinstein (D-CA) and Jeanne Shaheen (D-NH) — had been present, the measure would have failed.
The prairie chicken rule is only the latest Biden administration regulation that Congress has placed on the chopping block.
Lawmakers are able to overturn agency actions because of the Congressional Review Act (CRA), a 1996 measure that allows Congress to repeal any federal regulation within 60 days of a rule being issued.
Importantly, CRA resolutions follow an expedited process and are not subject to the Senate filibuster; this is how Republicans are able to go around Democratic leadership to place measures like the prairie chicken reversal on the Senate floor.
Since Republicans took control of the House in January, CRA actions have become a top priority for the GOP — and one of the most frequent sources of bipartisanship in the 118th Congress. They've also led to President Biden's first (and only) two vetoes since taking office, which were on measures overturning rules on water protections and ESG investing.
Biden better get ready to break out that veto pen once again. (That's right, the president doesn't actually stamp bills to veto them. He just signs an accompanying veto statement to announce his objection.)
The Senate also voted this week on a resolution overturning a rule that suspends tariffs on solar panels from Thailand, Vietnam, Malaysia, and Cambodia for two years. (The Biden administration has acknowledged that China uses the solar industries in these four countries to skirt tariffs on its own products, but has decided to delay punishing them for it to avoid impacting the solar supply chain.)
Vulnerable Democratic lawmakers have frequently used CRA votes to distance themselves from the Biden administration: the solar panel measure passed 56-41 in the Senate, with nine Democrats in support, and 221-202 in the House last week, with 12 Democrats in support.
The solar panel measure now goes to the president's desk, while the prairie chicken resolution must first pass the House; Biden has already threatened to veto them both.
Here's what else you might have missed this week:
---
In other news...
SUPREME COURT: "Conservative judicial activist Leonard Leo arranged for the wife of Supreme Court Justice Clarence Thomas to be paid tens of thousands of dollars for consulting work just over a decade ago, specifying that her name be left off billing paperwork, according to documents reviewed by The Washington Post." WaPo
ECONOMY: "Employers added a healthy 253,000 jobs in April, a sign the tight labor market continues to propel the U.S. economy despite stubbornly high inflation and banking industry turmoil." CBS
JANUARY 6: "Four members of the far-right Proud Boys organization were found guilty Thursday of seditious conspiracy in connection with the Jan. 6 attack on the U.S. Capitol." NBC
ABORTION: "North Carolina lawmakers on Thursday approved and sent to the governor a ban on nearly all abortions after 12 weeks of pregnancy, down from the current 20 weeks, in response to last year's overturning of Roe v. Wade at the U.S. Supreme Court." AP
DOCUMENTS: "Federal prosecutors investigating former President Donald J. Trump's handling of classified documents have obtained the confidential cooperation of a person who has worked for him at Mar-a-Lago." NYT
FEINSTEIN: "Despite renewed focus on Feinstein's health, details of her condition are scarce" LAT
---
Today in government...
White House: President Biden will meet with his "Investing in America Cabinet," the group of administration officials helping to oversee implementation of his economic agenda... VP Harris will attend.
First Lady Biden will arrive in London ahead of King Charles III's coronation tomorrow… Second Gentleman Emhoff will host an event marking Vesak, the most sacred holiday in Buddhism.
Congress: Neither the House nor the Senate are in session.
Supreme Court: The justices has nothing on their schedule.
---
Before I go...
Here's something interesting: "For the first time, scientists have caught a star in the act of swallowing a planet — not just a nibble or bite, but one big gulp," the Associated Press reports.
According to a study released in Nature this week, a group of astronomers watched the planet — which was was roughly the size of Jupiter — spiraling closer and closer to a dying star that was 1,000 times its size, until the star ingested the planet whole.
The star then grew even bigger and more than 100 times brighter, before fading and returning to how it was before subsuming the planet. Astronomers have never before witnessed this entire process.
A somewhat disquieting aside from the AP: "It's a gloomy preview of what will happen to Earth when our sun morphs into a red giant and gobbles the four inner planets."
But... "If it's any consolation, this will happen in about 5 billion years," Morgan MacLeod, a co-author of the paper, added. Yes, that does provide some consolation! Have a great weekend.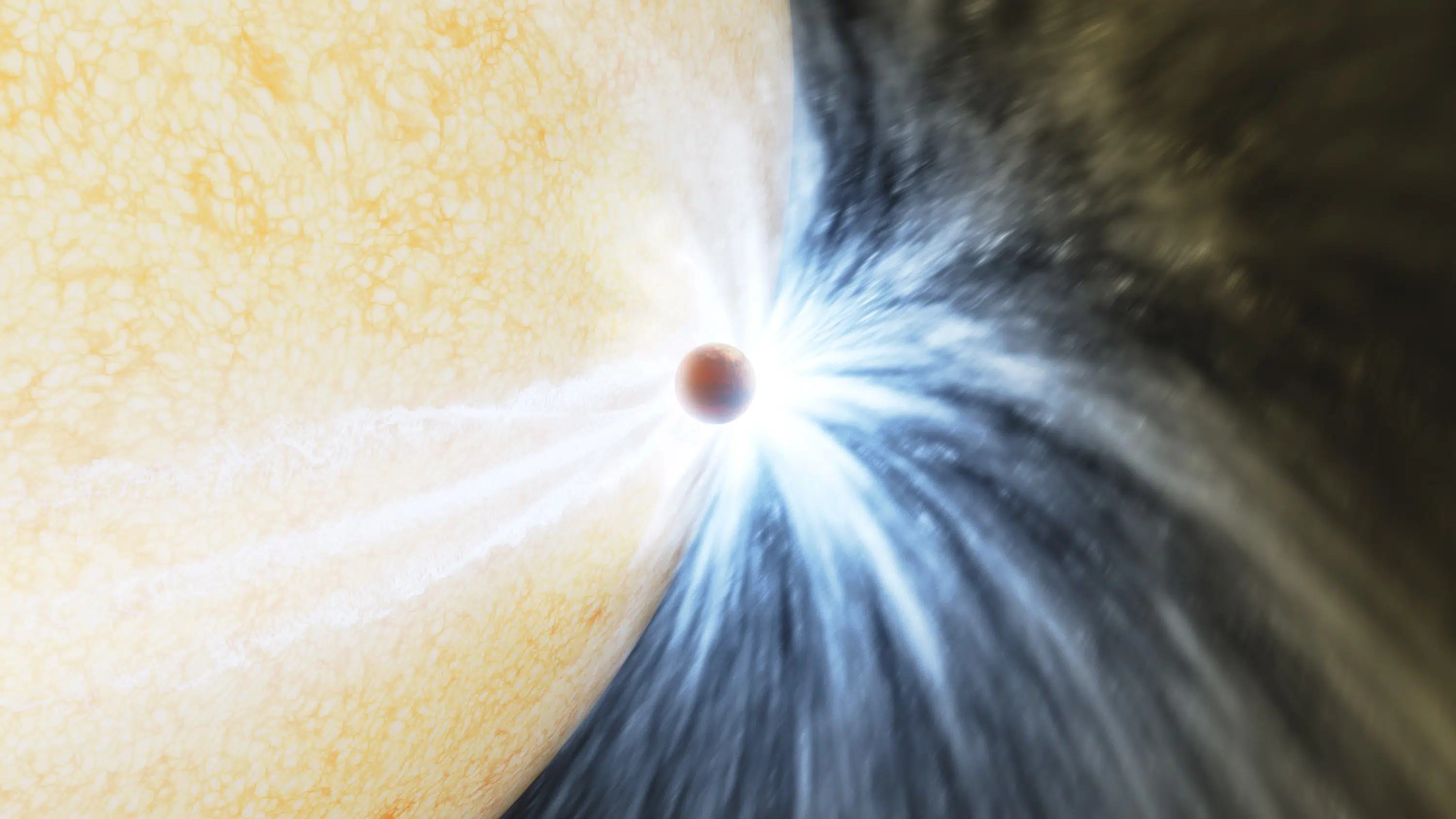 ---
Thanks for reading.
I get up each morning to write Wake Up To Politics because I'm committed to offering an independent and reliable news source that helps you navigate our political system and understand what's going on in government.
The newsletter is completely free and ad-free — but if you appreciate the work that goes into it, here's how you can help:
If you have any questions or feedback, feel free to email me: my inbox is always open.‌‌‌‌
Thanks so much for waking up to politics! Have a great day.‌‌‌‌
— Gabe