The debt ceiling deal shows Washington can still work
This agreement is a sign that, divided as we may seem, not everything is broken in Washington.
Good morning! It's Thursday, June 1, 2023. The 2024 elections are 523 days away. If this newsletter was forwarded to you, subscribe here. If you want to contribute to support my work, donate here.
The House easily passed the Fiscal Responsibility Act on Wednesday, voting 314-117 in favor of the Biden-McCarthy deal to suspend the debt ceiling until January 2025 and limit federal spending for the next two years. 149 Republicans and 165 Democrats voted for the compromise; 71 Republicans and 46 Democrats voted against it.
The debt limit saga is not over yet — the bill must still pass the Senate and be signed into law — but a resolution is in sight. If you've been following this debate from the beginning, the ending might feel somewhat anticlimactic.
After all, lawmakers and commentators (myself occasionally included) have been broadcasting dramatic warnings for months about a range of historic outcomes, from a catastrophic default on the nation's debt to an unprecedented invocation of the 14th amendment. Either likely would have launched the U.S. into a tangled web of financial and constitutional crises.
Instead, if all continues to go right over the next few days, we'll end up somewhere very different. Despite months of many calling for alarm, the debt ceiling process turned out fairly normal after all.
How we got here
There remain some lawmakers (all Democrats) who insist this process was not normal, that the Fiscal Responsibility Act was the product of an aberrant hostage-taking, not a standard legislative negotiation. But this rhetoric always did elide the stubborn fact — which I noted in April — that only 40% of debt ceiling hikes in the last 40 years came without conditions; the other 60% have been part of broader packages like this one.
Even the White House has now acknowledged this, albeit belatedly. As Republican lobbyist Liam Donovan recently flagged, the Biden team's own talking points argue that the president's deal with McCarthy is "consistent with the structure of [the] 2015, 2018, and 2019 budget deals, which likewise served as the vehicles to address the debt limit."
That admission underlines the fact that Democrats, too, cut budget deals with Trump in exchange for raising the debt ceiling during the last administration. The Democratic stance at the time was that default was out of the question, but — in the words of Chuck Schumer — the debt ceiling still provided them "leverage" to extract things they wanted in exchange. (In the Democrats' case, of course, that meant seeking and securing spending increases, not cuts.)
Those who paid close attention might have noticed that McCarthy actually stuck to a similar tune this year. "Defaulting on our debt is not an option," he said in April — but, yes, he'd expect something in return.
The major difference this time around — the thing that threatened to make this fight not normal — was that there were key members of McCarthy's party (Trump included) who did not follow his lead in ruling out a default. With that extremism as leverage of his own, Biden initially refused to negotiate, either not listening to McCarthy's no-default stance or not trusting that he'd ever be able to get a debt ceiling bill past his default-curious members.
If moderates in both parties had agreed with that assessment, Biden might have been able to push through the clean debt ceiling bill he wanted. However, once McCarthy proved that he both wanted to and was able to pass a bill to raise the debt ceiling — by doing it — Biden's stance began to crumble.
Soon enough, caught off guard by McCarthy's passage of a debt ceiling plan, Biden shifted to negotiating, without ever really acknowledging or explaining the change. From there, a fairly normal political negotiation took place: two party leaders got in a room and struck a deal; then centrists on both sides carried it to the finish line. The deal itself was equally familiar: some wins and losses for both sides, modest spending cuts, the usual fiscal gimmicks and unenforceable targets to let everybody save face without rocking the boat too much.
"I've worked in many divided government situations," said White House budget director Shalanda Young, a key negotiator. "I think this is where you would expect a bipartisan agreement to land. It's just the reality. There's not unified government. They have ideas. We have to listen to them. We have to talk about it."
"[The deal] does not include every single thing we can do," McCarthy echoed. "But it includes every single thing we can do right now." Score one for pragmatism.
A perfect process? No. But it worked, just as it has for every other debt limit dispute yet.
The planes that land
If you consider how far apart these two sides were only a month ago, the deal actually came along impressively quickly. (A looming deadline always helps in Washington.) It is fair to ask, then, whether this whiplash-inducing resolution calls for some self-reflection from those who hyped up the potential for default. For my part, I still feel how I did in February, when I wrote that a deal would likely come together, but that the consequences of default were major enough that it was important to give them substantial coverage. (I also noted a strange paradox: while I believed it important — as always — for the media to refrain from hyperbole, some ringing-of-alarm-bells was probably required to induce Washington to action.)
The flip side of that, though, is that I also think it's important to give coverage to the (admittedly less dramatic) manner in which those consequences are about to be prevented. It isn't just the crises that happen that merit our attention; so do the ones that are averted. Journalists owe it to our readers to acknowledge when the process works, instead of skating breathlessly from one potential breakdown to another.
In this case, a disaster many said was imminent is about to be avoided somewhat painlessly. Perhaps politically disillusioned Americans can find some encouragement in this. Despite the very real partisanship and tribalism plaguing the U.S. right now, it provides another sign that the wheels of government are continuing to turn.
Remember: the last Congress, which began with January 6th, ended with an astounding record of bipartisanship, on issues including infrastructure, gun control, electoral reform, veterans health care, semiconductor manufacturing, and same-sex marriage. (It should be noted that Trump opposed many of these bills; he was ignored each time by Republican leaders, just like he was this time.)
Then, this current Congress began with a 15-ballot brawl over the House speakership and the assumption that divided government would snuff out attempts at cooperation. Yet, the predictions of chaos that emerged after that inauspicious opening have not panned out: Kevin McCarthy has kept his speakership, formed a friendship with Hakeem Jeffries, and also overseen some instances of bipartisanship. (McCarthy and Jeffries even struck a side deal on earmarks last night.) Now, lawmakers are on the verge of passing a debt ceiling agreement that all four congressional leaders — ideologically varied as they are — support.
This deal could contribute to further lowering the temperature in Washington: the threat of default has been defused all the way until 2025, and the odds of a government shutdown in October have somewhat decreased now that next year's budget levels have already been hashed out. (And the debt ceiling deal also includes a provision instituting across-the-board cuts if Congress doesn't pass its appropriations bills, further incentive for both sides to avoid a funding gap.)
The power of a soft touch
What can we take away from all this? One key insight: perhaps Biden and McCarthy — two frequently underestimated politicians, as I have written — know what they're doing after all. They are both party leaders who are uniquely unafraid of internal dissent. Often this makes it seem as though things have spiraled out of their control; more often that not, though, they are quietly crafting a deal and picking up the votes they need.
In contrast to Nancy Pelosi, who ruled the House with an iron fist, McCarthy makes a point of allowing his members to publicly air their frustrations. Rather than freeze them out, he has empowered many of his harshest critics, methodically building relationships with them over time. It makes for a messy process, but by and large, it has worked for him so far. The fact that he struck a bipartisan debt ceiling compromise that even Marjorie Taylor Greene and Jim Jordan supported is genuinely impressive, and speaks to his ability to use a soft touch to convert skeptics into allies.
Similarly, Biden remained mum throughout most of the debt ceiling process, preferring to keep his head down and keep negotiating, even as members of his party went public with their worries. It was a communications strategy that sometimes befuddled fellow Democrats, but it is one that has worked for him in several bipartisan negotiations throughout his presidency.
"Look, one of the things that I hear some of you guys saying is, 'Why doesn't Biden say what a good deal it is?'" the president told reporters on Monday. "Why would Biden say what a good deal it is before the vote? You think that's going to help me get it passed? No. That's why you guys don't bargain very well."
That unshaking concentration — tune out the bedwetters, focus on the deal in front of you — has worked for Biden again and again, even if his silence makes it hard for those on the outside to realize a deal is coming together.
The two party leaders also seem to have developed a grudging respect for each other, which might surprise (or dismay) partisans who brand Biden as senile or McCarthy as extremist. Biden thanked McCarthy for "negotiating in good faith" in a statement last night; McCarthy told reporters on Sunday that Biden was "very professional, very smart, very tough" in their negotiations. Ronald Reagan and Tip O'Neil this is not, but Biden and McCarthy's relationship isn't quite as bitter as you'd expect if you listened only to each party's more divisive voices.
These takeaways are worth remembering in the coming days, amid rumblings that Freedom Caucus members could attempt to oust McCarthy. Although some will no doubt hype it up as the next episode of potential drama, so far, there is no actual evidence that McCarthy is vulnerable. Don't forget the president and the House speaker's key lesson: sometimes it pays to stay under the radar, letting your critics yammer on in public while you solidify your standing.
And sometimes, as divided as we may seem, it pays to trust the process and bet on calm, not chaos. Sometimes, Washington still works like normal.
---
More news you should know
More reports are dribbling out about Special Counsel Jack Smith's investigations into Donald Trump. Last night, CNN reported on a summer 2021 recording in Smith's possession in which Trump can be heard acknowledging he kept a Pentagon document — which he knew to be classified — after leaving office. Smith's team is investigating Trump both for possible mishandling of documents and for possible obstruction of their inquiry. On the second score, the New York Times reports that prosecutors have questioned Mar-a-Lago employees about whether they interfered with the Justice Department's efforts to obtain security camera footage from the Trump resort.
Smith is also running a parallel investigation into Trump's conduct after the 2020 election. In that probe, his team is reportedly asking questions about Trump's post-election firing of Christopher Krebs, a cybersecurity official who pushed back on the then-president's false claims of voter fraud.
House Oversight Committee chair James Comer (R-KY) says he will move forward with plans to hold FBI director Christopher Wray in contempt of Congress. Comer and Wray are squaring off over an FBI internal document which Comer says contains allegations that President Biden was involved in a bribery scheme during his vice presidency. Comer has issued a subpoena for the document; Wray has said offering anything more than a redacted version would compromise a confidential source.
Three more Republicans are set to announce presidential campaigns next week. Former New Jersey Gov. Chris Christie is expected to join the field on Tuesday; former Vice President Mike Pence and North Dakota Gov. Doug Burgum are poised to follow on Wednesday. Pence averages at 5.4% in Republican primary polls so far, according to FiveThirtyEight; Christie and Burgum do not even register.
Finally, let's quickly return to the debt ceiling. There are still two remaining landmines that have the ability to contradict the thesis I laid out in my lead piece above. I don't currently expect either to happen, but I feel like I owe it to you to mention them to make sure you have the complete picture:
The deal could run into problems in the Senate. With the debt ceiling "X-date" of June 5 fast approaching, the Senate only has a handful of days to pass the deal as well. Legislation can move quickly in the Senate — but only if all 100 senators are united behind it. In this case, there are both conservative and progressive senators opposed, but often senators will agree to give a bill accelerated consideration in exchange for a vote on an amendment of theirs. Watch for some sort of amendment deal to come together in the coming days. (Senate leaders will try to ensure none of the amendments pass, however, as that would require the deal to go back to the House, costing time and potentially support.)
McCarthy could face a real challenge to his speakership. More than 2/3 of the Republican conference voted for the debt ceiling package, the number McCarthy had promised — likely a sign that his speakership is secure. But there are still conservatives upset about the deal, and some have murmured in recent days about triggering a "motion to vacate the chair," essentially a vote of no confidence on McCarthy. At a press conference this week with 11 Freedom Caucus members opposed to the deal, however, only one of them raised his hand to indicate support for a motion to vacate. (And then that same member was dismissing the idea by Wednesday.) All it takes to trigger a motion to vacate vote is one member, so McCarthy's relationship with his right flank will be important to watch over the next few days. But if you were someone who thought back in January that McCarthy's speakership would be constantly in jeopardy, and that any bipartisan deal he struck would inevitably spark a motion to vacate, it might be time to reassess.
---
Today's political planner
All times Eastern.
President Biden is in Colorado Springs, Colorado, to deliver the commencement address at the U.S. Air Force Academy graduation at 11:40 a.m.
Vice President Harris will hold a press call on the administration's efforts to address racial bias in home appraisals.
The Senate will vote on a House-passed resolution repealing Biden's student loan cancellation plan. The chamber advanced the measure in a 51-46 vote on Wednesday; Biden has promised to veto it. The Senate could also hold votes related to the debt ceiling package.
The House will be out of town for the rest of the month now that they have finished work on the debt ceiling.
The Supreme Court will release opinions at 10 a.m.
Donald Trump is in Iowa, the first state on the GOP primary calendar, while Ron DeSantis is in New Hampshire, the second. Trump will participate in a pre-taped Fox News town hall with Sean Hannity that will air at 9 p.m.
---
Before I go...
Here's a story I found moving: Minnesota Rep. Dean Phillips' Army captain father died in a helicopter crash during the Vietnam War. Phillips recently traveled to Vietnam — along with a group that included actor Woody Harrelson — to visit the site where his father died.
"It had become a mission," Phillips told NBC News. "And when I got there, I can remember thinking, 'This is where he took his last breath.' And for me, it felt like a place where I could take my first." Click below to read the full story...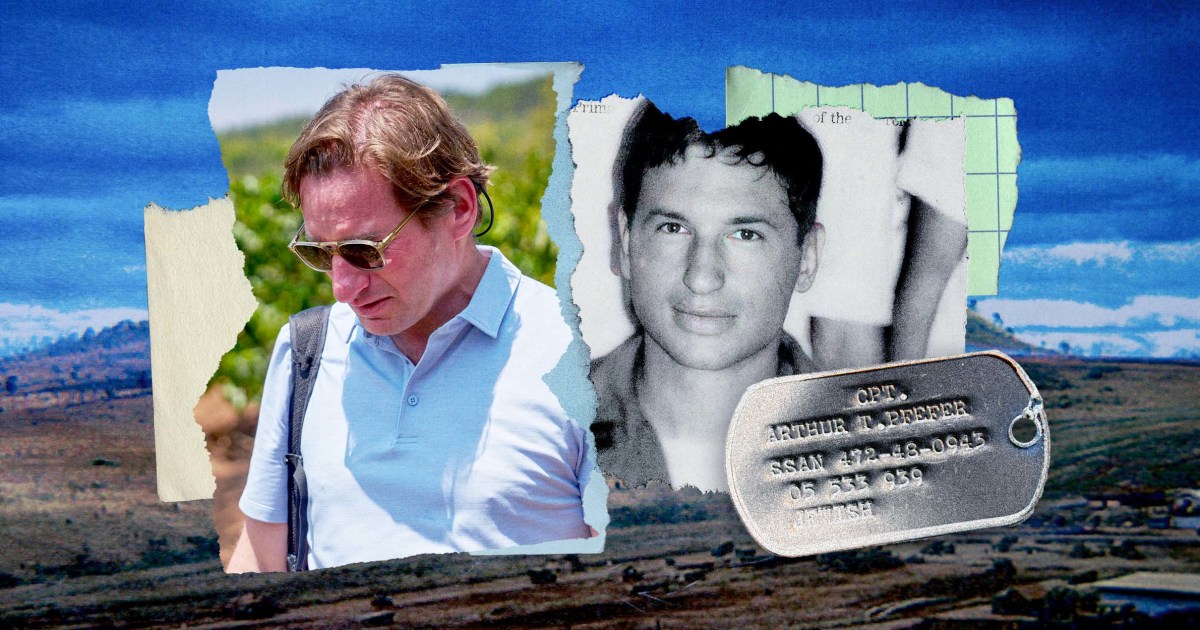 ---
Thanks for reading.
I get up each morning to write Wake Up To Politics because I'm committed to offering an independent and reliable news source that helps you navigate our political system and understand what's going on in government.
The newsletter is completely free and ad-free — but if you appreciate the work that goes into it, here's how you can help:
If you have any questions or feedback, feel free to email me: my inbox is always open.‌‌‌‌
Thanks so much for waking up to politics! Have a great day.‌‌‌‌
— Gabe