Return of the Trump pivot
Donald Trump is trying to recapture his 2016 image as a moderate. Will it work?
Back in 2016, as the primaries ended and the general election began, Donald Trump's campaign repeatedly promised a "pivot" that — by most accounts — never came.
It became something of a running joke among political reporters. "89 Days Out, Trump Campaign Remains Pivot Free," NBC News reported in August of that year. "Donald Trump Made the Word 'Pivot' Meaningless," Washingtonian complained. The jabs didn't stop once Trump took office: "There is no Trump pivot, and there never will be," Vox announced in 2017, as the idea of the bombastic president moderating his tone became as laughable as the thought of an "Infrastructure Week."
As March Leibovich, then of the New York Times, noted in March 2016, pivoting is what "we demand and expect. . . of party front-runners at this stage of a primary campaign": there is a long tradition of candidates courting their party bases during the primaries, then swinging to the center in the general election. (Mitt Romney's top strategist in 2012 famously compared this classic political move to shaking up an Etch-A-Sketch.)
"But Trump follows no such rules," Leibvoich wrote, referring to the general election "pivot" as just the latest political norm that Trump was all too happy to violate.
But then, something interesting happened.
No, Trump never moderated his rhetoric, clearly. (His advisers certainly failed at making him stick to the teleprompter.) But attention to that fact — and mockery of the "pivot" on that score — led some pundits to miss that Trump did make conscious appeals to the center on policy. In fact, that was something he did throughout his entire 2016 campaign, busting GOP orthodoxies on trade, Medicare and Social Security, foreign interventions, and other issues.
And voters paid attention. By the end of the 2016 campaign, the American National Election Study found that Trump was viewed by voters as more moderate than any Republican presidential candidate since 1972. 40% of voters reported to Pew that Trump had "a mix of liberal and conservative views," compared to 28% who said that about Hillary Clinton. Some political scientists even argued that it was political moderates who fueled Trump's unexpected 2016 victory.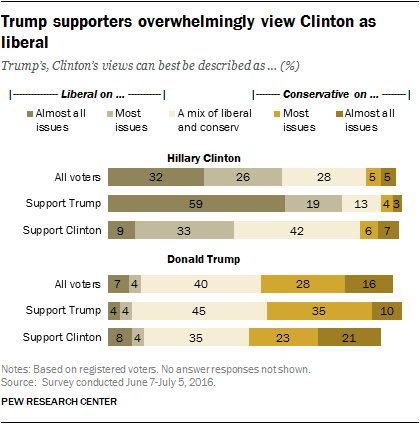 Of course, that's not the end of the story. Once Trump entered the White House, there was a brief period when it seemed like he might legislate based on that moderation, musing about striking bipartisan deals on infrastructure, gun control, and immigration. (Remember when he had "Chuck and Nancy" over for Chinese food?) Each time, he either grew disinterested or was dissuaded from pursuing such deals by more traditional Republicans.  
If he had followed his instincts, he probably would have been a more potent political force in 2020. Instead, he ran a standard-issue conservative policy shop on most issues at the White House, while taking to the extremes on some others (and, again, never attempting to tone down his rhetoric for long).
By the time he sought re-election, Trump's moderate image had been lost. After being viewed in 2016 as the least conservative GOP nominee in modern times, voters judged Trump in 2020 as the most conservative candidate on record.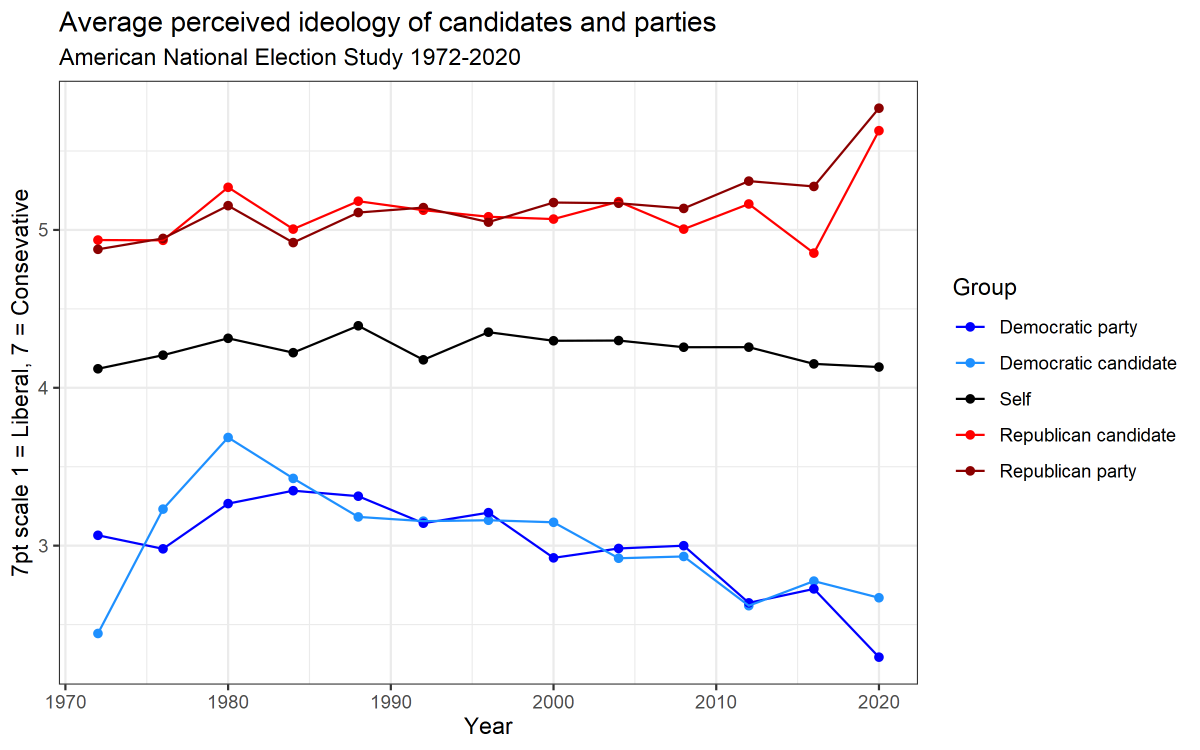 And then, as we know, Trump lost — which, I'd posit, had something to do (among other factors) with that big spike in the above graph. The former president probably isn't poring over data from the American National Election Study (although he should! It's really good data!) But, based on his most recent comments, it seems like he is trying to correct for this general problem after it plagued him in the last election.
Trump is trying to execute a pivot to the center once again, with at least three separate moves there in just the past few days.
On abortion: In an interview on "Meet the Press" this Sunday, Trump trashed Ron DeSantis' six-week abortion ban as "a terrible thing and a terrible mistake." Dancing around the question of whether he'd support a national abortion ban, Trump instead insisted he would be able to strike a bipartisan consensus on the issue, despite having appointed three of the six justices who struck down Roe v. Wade. "I would sit down with both sides and I'd negotiate something, and we'll end up with peace on that issue for the first time in 52 years," Trump said. Trump also signaled a more keen understanding of the national politics of abortion than most of his GOP rivals: "You're not going to win on this issue," he said.
On LGBT issues: In another recent interview, with his 2016-era sparring partner Megyn Kelly, Trump was asked a question that would be seen as a layup by most 2023 Republicans: "Can a man become a woman?" But Trump paused for several seconds before responding. "Ummm," he said, before eventually shaking his head. "In my opinion, you have a man, you have a woman," he answered, explaining that "part of it is birth, can the man give birth?" Still, his answer hardly seemed definitive, as if he was hesitant to take a side. "They'll come up with some answer to that also someday," he added. "I heard just the other day that now the man can give birth."
On unions: Per the New York Times, Trump is planning to counter-program the next Republican debate with a trip to Detroit, where he will deliver a primetime speech to union members amid the ongoing autoworker strike. "The campaign is also considering the possibility of having Mr. Trump make an appearance at the picket line," the Times reported. Union households have historically been a Democratic constituency, although Trump made some strides among them in 2016 and now some autoworkers are souring on Biden, making it a smart general election play.
Trump's Republican rivals are having a field day with these comments.
Many of them spent the weekend at a conference of social conservatives in Iowa, jostling to assert themselves to Trump's right. "I think all pro-lifers should know that he's preparing to sell you out," DeSantis said in response to Trump's interview on "Meet the Press." His super PAC has also blasted out an ad slamming Trump for his wishy-washy comments on transgenderism.
At a campaign event yesterday, Tim Scott attempted to assert his conservative bona fides on unions, in contrast to Trump's outreach to striking workers. "I think Ronald Reagan gave us a great example when federal employees decided they were going to strike," Scott said. "He said, 'you strike, you're fired.' Simple concept to me."
Conservative commentators — many of whom have been skeptical of Trump's true colors since 2016 — also took to social media to blast him: "In 48 hours, Trump couldn't answer if a man could become a woman and denounced pro-life legislation," radio host Erick Erickson wrote. "I think I've seen enough."
But, with a 45-point lead against his nearest rival, Trump has the unique luxury of being able to look toward the general election early. It's hard to imagine any other Republican surviving in a primary while saying "I don't frankly care" about abortion, but that's exactly what Trump did on "Meet the Press," and there are no signs it will harm him among Republicans. (Caveat: Even if his polling lead seems secure, it is still a risky move before Iowa, where evangelicals reign supreme.)
Democrats are reportedly terrified that Trump may successfully recreate himself as a moderate.  
Most recently, when Trump went on "Meet the Press" to scoff at abortion bans, it was a "flashing red light" at Biden HQ, per Politico. Sensing another vulnerability, Democrats in Michigan are now urging Biden to beat Trump to the UAW picket line, according to the Washington Post.
As Biden's aides have been noting in recent days, Trump's moderate stances often contradict his policies as president: he appointed three of the six justices who struck down Roe v. Wade, rolled back transgender rights, and more frequently sided with business than with labor.
There are other reasons Trump will have a difficult time presenting himself as a moderate this time around: even as he tries to reinvent his record on issues like abortion, he has big blind spots where the public still views him as extreme, especially on January 6th and the 2020 election. He'll have a lot of work if he wants to reverse that spike in voters who viewed him as conservative in 2020, but not 2016.
Still, when he wants to be, Trump can be a canny political operator, understanding more intuitively than others in his party the issues that can be a drag on Republicans, as his moves the last week have shown.
So far, he's finding some success. A recent Fox News poll found Trump drawing a higher percentage of the vote than any of his rivals in hypothetical matchups with Joe Biden. Ron DeSantis, who has made electability the central argument of his campaign (but calculated that he must run to the right in order to get there), performs the worst.
One reason for this gap? Self-described moderates, among whom Biden wins against DeSantis in the poll (47%-39%) but loses against Trump (43%-46%). The same is true of voters who describe themselves as Independents.
For Democrats, the thought of a Trump "pivot" is no longer quite a laughing matter.  
---
More news to know.
Tensions flare inside House GOP as moderates explore new plan to avoid shutdown / CNN
Trump wrote to-do lists for assistant on White House documents marked classified / ABC
Illegal border crossings are on the rise: 7,500 migrants were stopped on Sunday alone / NBC
Rep. Jennifer Wexton will not seek reelection as diagnosis changes / WaPo
Officials find debris from F-35 fighter jet that crashed in South Carolina after pilot ejected / AP
Justin Trudeau accuses India of "credible" link to activist's assassination in Canada / CBS
Giuliani's former lawyers sue him for $1.36M in unpaid legal fees / Politico
The U.S. Lost 4.1 Million Days of Work Last Month to Strikes / WSJ
---
Before I go...
Today is National Voter Registration Day.
Are you registered to vote? Click here to check and complete your registration if you're not. 🇺🇸🗳️
---
Thanks for reading.
I get up each morning to write Wake Up To Politics because I'm committed to offering an independent and reliable news source that helps you navigate our political system and understand what's going on in government.
The newsletter is completely free and ad-free — but if you appreciate the work that goes into it, here's how you can help:
If you have any questions or feedback, feel free to email me: my inbox is always open.‌‌‌‌
Thanks so much for waking up to politics! Have a great day.‌‌‌‌
— Gabe