Policy week in review
Key policy developments you should know about this week.
Good morning! It's Friday, May 26, 2023. The 2024 elections are 529 days away.
In this morning's newsletter: Every Friday, I like to close out the week by breaking down the policy developments in Washington — and across the country — you should know about from the past week.
In case you missed them earlier this week: Here are my pieces looking at presidential rematches throughout history, previewing Ron DeSantis' presidential run, and analyzing his Twitter launch event.
Housekeeping note: There will be no newsletter on Monday in honor of Memorial Day. I hope you have a meaningful holiday.
If this newsletter was forwarded to you, subscribe here. If you want to contribute to support my work, donate here.
---
The policy news you might have missed this week
Abortion
South Carolina banned abortions after about six weeks of pregnancy, while Nebraska banned the procedure after 12 weeks.
Abortion is now legal in 24 states, completely banned in 14 states, banned after six weeks in two states, after 12 weeks in one state, and between 15-20 weeks in four states. The remaining five states have bans that are currently in legal limbo. Full map
Gun control
Minnesota and Michigan approved "red flag" laws that will allow courts to temporarily confiscate guns from individuals deemed to be a threat to themselves or others. 21 states now have such laws on the books.
LGBT rights
Nebraska approved a ban on gender-affirming care for transgender people under 19 years of age, while a similar ban failed to advance in Louisiana. 19 states have now instituted restrictions on gender-affirming care for young people.
Student loans
The House passed a resolution that would overturn President Biden's student debt relief plan, which would cancel up to $20,000 in student loan debt for federal borrowers. The vote was 218-203, with two Democrats joining all voting Republicans in support.
Environment
The Supreme Court sharply limited the powers of the Environmental Protection Agency (EPA) to police pollution in wetlands, ruling that the Clean Water Act only allows the agency to regulate wetlands that have a "continuous surface connection" to larger bodies of water.
The justices ruled unanimously that the EPA could not regulate the specific Idaho wetland in the case, but four justices — the court's liberals, and Justice Brett Kavanaugh — dissented from the broader legal conclusion about other wetlands across the country.
Meanwhile, the House approved a Senate-passed resolution overturning an EPA regulation setting strict emission standards for heavy-duty truck. The measure passed in a 221-203 vote, with four Democrats in favor and one Republican opposed; the resolution now goes to President Biden, who is expected to veto it.
Drugs
The House passed a bill to permanently list fentanyl-related drugs as Schedule I controlled substances, the strictest classification, which would lead to stricter penalties for their distribution. The measure, an attempt to combat the worsening opioid epidemic, was approved in a 289-133 vote, with 74 Democrats in favor and one Republican opposed.
Criminal justice
President Biden vetoed a resolution that would have overturned a Washington, D.C. police reform bill. The D.C. bill would ban police chokeholds, limit the use of teargas, increase public access to police disciplinary records and body camera footage, and block the D.C. police union from having a role in negotiating disciplinary actions.  
The resolution passed with bipartisan support in both chambers of Congress, receiving 14 Democratic votes in the House and six in the Senate. All voting Republicans backed the measure in both chambers. It is Biden's fourth veto since taking office.
Antisemitism
President Biden unveiled the country's first-ever "National Strategy to Counter Antisemitism," which the White House called the "most ambitious and comprehensive U.S. Government-led effort to combat antisemitism in American history." The strategy included more than 100 new actions, including an antisemitism awareness campaign in schools, increased government research on antisemitism, and bias training on antisemitism for federal employees.  
---
In other news
Democratic and Republican negotiators are closing in on a deal to raise the debt ceiling. According to the New York Times, the agreement is expected to lift the debt limit for two years, while slightly increasing defense spending and slightly lowering domestic spending during that timeframe.
The eventual deal will also likely roll back $10 billion of the $80 billion in new IRS funding approved last year and include provisions clawing back unspent Covid funds, speeding the permitting process for new energy projects, and possibly instituting work requirements for some social safety net programs.
Both chambers of Congress — as well as President Biden — are out for the long weekend, but negotiators are expected to continue hammering out a deal. Any agreement would have little time to pass through Congress before the U.S. runs out of money to pay its bills, which is expected to take place the week of June.
Florida Gov. Ron DeSantis raised $8.2 million in the first 24 hours after announcing his presidential bid. The impressive haul sets a new record; for comparison, former President Donald Trump raised $9.5 million in the first six weeks after announcing his 2024 campaign. However, the news was dampened by an NBC News report that DeSantis administration officials have been soliciting campaign contributions from Florida lobbyists, a highly unusual situation that raises legal and ethical questions.
Oath Keepers founder Stewart Rhodes was sentenced to 18 years in prison for his role in the January 6th attack. It is the longest sentence so far for a January 6th defendant and the first for the rarely used charges of seditious conspiracy. "I never have said this to anyone I have sentenced: You pose an ongoing threat and peril to our democracy and the fabric of this country," District Judge Amit Mehta told Rhodes.
Related: DeSantis told a conservative radio host on Thursday that he would consider pardoning January 6th offenders if elected president.
More headlines
---
Today in government
White House: President Biden will welcome the 2023 NCAA men's and women's basketball champions — the University of Connecticut Huskies and the Louisiana State University Tigers, respectively — to the White House.
Later, the president will leave for Camp David, where he will spend the holiday weekend.
Congress: The House and Senate are on recess.
Supreme Court: The justices have nothing on tap.
---
Before I go...
Here's a fun story on a tell-tale sign that Washington negotiations are heating up: when the pizza arrives.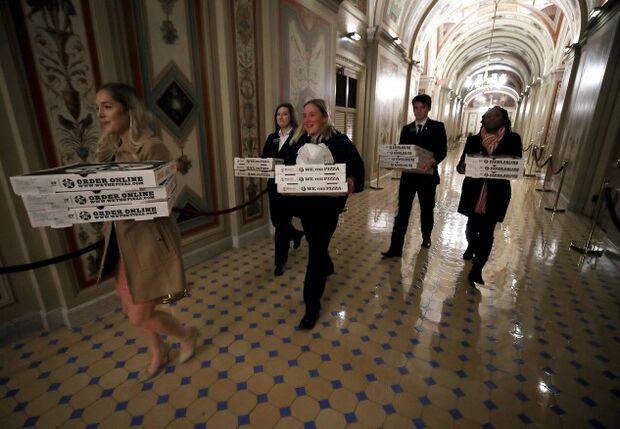 ---
Thanks for reading.
I get up each morning to write Wake Up To Politics because I'm committed to offering an independent and reliable news source that helps you navigate our political system and understand what's going on in government.
The newsletter is completely free and ad-free — but if you appreciate the work that goes into it, here's how you can help:
If you have any questions or feedback, feel free to email me: my inbox is always open.‌‌‌‌
Thanks so much for waking up to politics! Have a great day.‌‌‌‌
— Gabe